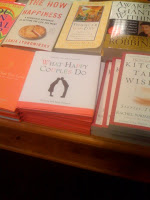 and took this photo.
Yes, it's our little baby, snuggling up to a book we actually looked to for inspiration when in the process of birthing our own (the orange one on the left: Live the Life You Love).
Why NOT live the life you love? As I am oft heard saying to my students: "You're going to be somewhere in 10 years; why not be where you want to be?" Over 10 years ago I began dreaming of a book just like What Happy Couples Do. Really. And then I found Anna. And then Anna and I found Steve Deger. It's been such a joyful process.
Speaking of process: More soon on the birth process of our second baby (What Happy Parents Do). She's off to the printers in 2 days …!