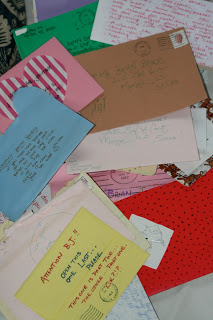 … is finding them 22 years after you've written them, re-reading them, and enjoying them all over again. (It's Carol writing this … although I'm guessing Anna might have similar discoveries to report?)
Although my lower back is screaming and my house is a mess of boxes because we're in the middle of moving, today's packing uncovered a box in the garage rafters marked "memories" in my mother-in-law's hand writing. My hubby had secretly tucked the box of goodies (letters, poems, scrapbooks, cards … and a boy scout patch or two) away for, well, finding them again some day! Today he sure did.
There he was … in a lawn chair in the middle of the garage on this 97 degree day … with a huge smile and a rather large pile of letters I had written him during our first years together. He demanded I look at all the sweet-nothings I had written him. He could hardly contain his boy-ish joy. I could hardly believe that our world has changed so much in 20 years; who writes 4-page hand-penned love letters?
And then I asked myself a few more questions:
Did I really make my own envelopes out of magazine pages? Did I really draw silly little illustrations – most of them with word bubbles – on every page? Did I really inflate a huge balloon, write a letter in permanent marker, deflate the balloon and send it to my then sweety/now husband, complete with instructions on what to do when he received it?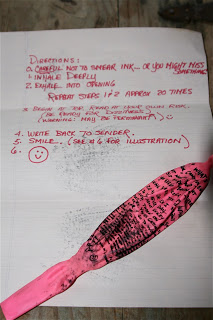 Am I really telling the world how silly and corny I was as a young gal in love?
Yes, it's the 20-year return on love letters: Finding. Opening. Remembering. Laughing our heads off at how goofy in love we were.
Maybe, after we move, I'll write another love letter or two, craft an envelope out of a page of the NYTimes, and tuck it away in our new rafters. Who knows how long it will be until we find them again. But when we do, how grand it will be.