I (Anna) never thought the day would come. Today marks my 39th week of pregnancy. Our baby might still be nameless (that's a whole different blog post!), but he's fully cooked. This means that no matter what, in less than three weeks, I will be a mother. Um, whoa. Ever seen someone go from thrilled to terrified in the span of five minutes? Come to my house. In the past few days, looking at this little sweater and hat, knitted by my sweet mom, instantly renews my excitement when fear sets in. Have you ever seen anything so cute? I'm trying to explain to him that he needs to come greet the world so I can see him wear his sweater. ASAP.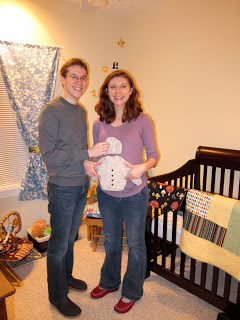 We're seemingly ready for Baby to come. The hospital bags are packed and perched by the door. The car seat is installed. The clothes are washed and folded. Thanks to Carol, the baby's room is perfect. She's been sewing, stitching, and carefully crafting all the little details to make it both adorable and functional. But how come I still don't feel ready? I choose to believe it's because "readiness" is a parenting myth.
While waiting, we're trying to spend as much quality time together as possible. Because before we know it, we'll need a babysitter in order to spend any time alone! We've been pretty much inseparable these days and I'm loving every minute of it.
Wish us luck. Any day now, Baby!