It happened yesterday at 6:32 p.m. The waiting ended and into the world appeared Anna and Brent's new little love: Thomas John. The perfect name for the perfect baby.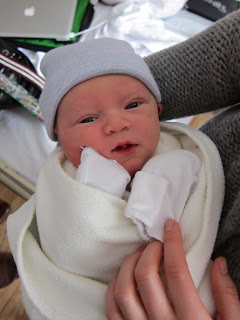 Anna, you are a mountain of strength. Brent, you are a rock-steady presence. Together with Thomas, you are an unstoppable threesome. Welcome to the new chapter in your life! May it be filled with lots of sleep, many new loving little (couple/child/parent/partner) rituals and even more moments of pure and unfettered gladness (even when those moments are in the middle of sleepless nights).
We can't wait to hear all about your first days, and the wise insights you'll share about "What Happy Parents Do" … direct from the trenches.
Sleep well. Find joy. And tell us all about it as you do!