Last week was Birthday week again at the Bruess house. Gracie turned nine. The ritual of celebrating in grand style – for seven "wonderful" days – took us from a red velvet cupcake mountain on day one to our special bistro dinner with BFFs at the Mall of America's American Girl Store ("Mom, this is the greatest day ever"). Instead of telling you all about it, I thought I'd show and tell select events of our week: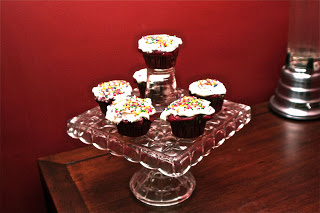 Day one:Red velvet cupcake tower kick off birthday-week. Yum.
Day two – six: I'll spare you the photos of the front door sign, the bouncy balls, the gifts hidden around the house, the second batch of cupcakes, the 4-layer homemade german chocolate cake, the candles, the songs, the cards, the cash (grandmas and aunts know all about birthday week too), the breakfasts in bed … and … sob, sob … the tears when the birthday girl finds out that her brother made it to swim finals but she did not. Oops. Not-so-happy-birthday moment. Oh well. You can't have it all, even during birthday week.
Fast forward to day seven: We head to "The Bistro" per the request of the birthday-week queen.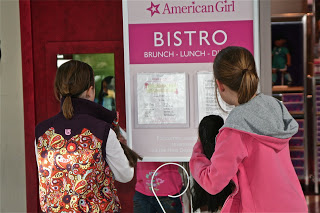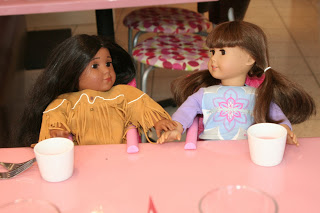 The dolls pull up to the table and order lemonade. On ice, please.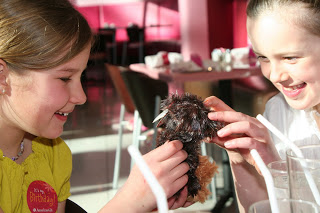 BFFs oooh and aaah over the mini-fred puppy given as a gift. Gracie names him Tiger. Fred attacks Tiger the minute we get home. Woof. Woof.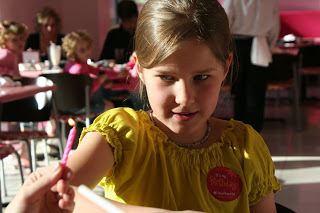 Gracie acts like she doesn't want us to sing to her in a restaurant. She is loving every second of it.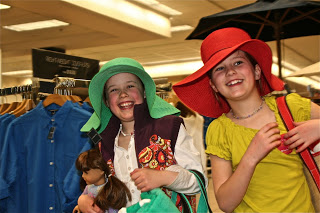 BFF's request a trip to Mexico to close out birthday week. We take them to Sears and have them try on beach wear instead. Smart.
Birthday week ends with very crabby daughter (too much fun, too little sleep?!) and a very happy mom (it's officially over now, right?)
I strongly encourage you consider initiating birthday week at your house! … If you are strong. Tolerant. Dotting. Patient. Can bake. And decorate. And wrap boxes in 10 seconds or less. Can make big signs (for the doors and entrances). And, most importantly, can take a week off (after birthday week, to catch up on sleep and scratch the tape off the ceilings and doors). What fun it is to be nine and enjoying the beauty of ritual!