Okay, some of you are on to me (it's Carol here). I've been moonlighting as a blogger for my day job.
Indeed, last September I was asked to become an official blogger for the University of St. Thomas. I'm sure it was because of the bajillions of happy readers of this Happy Couples Blog.
Okay, maybe not.
But, if you'd like, check out what's going in my little university life
blog.stthomas.edu/thescroll/
. You'll notice I always find a way to work in a story about my kids, hubby, dog, friends and neighbors. Because if you're not writing about something you love, is it even worth writing? (Yes, students, I love you too. Usually. Sort of).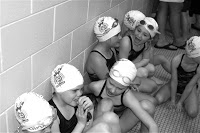 My latest Scroll blog on "Streamlining" was inspired by Gracie and her swimming buddies, pictured here. Ah, streamlining. One of my favorite and on-going goals in life.