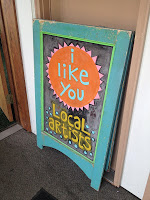 Oooooo … this is going to be fun! One of our favorite local gift shops with one of my all-time favorite names ("i like you" – yes, that's their name) was voted to be the site of a Minneapolis CashMob this
Saturday, April 14, Noon – 6 p.m.
Besides the fact that you will like (LOVE) everything at
i like you
– they feature all Minnesota artists – you might just be delighted to find a bunch of Happy Couple books, happy couple juice glasses, happy couples communicate well kits (oh, yes they do!), and happy couples "crave warmth" mugs. And might we mention
i like you
also features
What Happy Parents D
o books and
What Happy Women Do
books, and they're serving cookies – oh happiness!? Does it get any better?
It doesn't, so I know that me, my daughter and mom (she's coming to town this weekend and who, like me, loves to shop local), will be there! Will you? One-stop mother's day, wedding day, bridal shower, birthday shopping … and supporting local business. A serious woo hoo for everyone.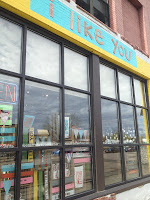 i like you
small things for a prettier life…
501 1st Ave NE
Minneapolis, MN 55413
612.208.0249
(Don't know about Cash Mob? Now's the perfect time (
cashmob.com
): "A cash mob brings community members together much like a flash mob; however, instead of the normal flash-mob activities, the cash mob storms the doors of a preselected mom-and-pop business that is often a cornerstone of a community and its history. Each mobber spend a previously agreed upon amount, usually $20.")