Life post-dissertation defense has been grand!
The hubs and I (Anna here) are still working on furnishing our home. Slowly but surely, we're making progress. It's been fun and sometimes frustrating. If you recall from a previous blog post, Brent is quite opinionated and involved in the process of creating beauty in our home. This makes the process take twice as long because each idea is proposed, deliberated, researched, and deliberated again. Then, we seek some outside opinions to allow us more depth to our discussion. FInally, a decision is made…
…And then it usually changes a few more times.
But we're having fun making our tastes, preferences, and opinions collide in a new way. Mostly, these projects open up more dialogue in our marriage, allowing us to converse even more, and in new ways. And during our phase of life–you know, the phase where most couples experience a dip in marital satisfaction, due to the high demands of young children–it's been a pretty cool challenge to tackle together. That and gardening. Our marriage loves home ownership!
We're even tackling sewing projects together! We made these pillows under the direction of my mother-in-law. It's perfect, because Thomas needed something to throw around on the porch (ha). I cut the fabric and hand-stitched them and Brent learned how to put in zippers. Sew cool.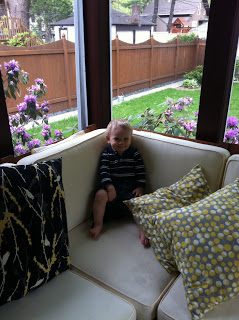 Up next? Deciding on living room furniture and picking art. Stay tuned for more updates along the way. Because I know you all were dying to know all about our adventures in decorating, right?