One of my undergraduate students is doing a super cool research project: investigating how couples use Facebook and other social media tools to share the big news of their couple-lives. She's asking couples when/how/if they do so and how family and friends like (or not) digitally hearing things like "We're engaged!" and/or "We're having a boy!" and/or "We just bought a little brick bungalow" and/or "We're expecting quads!"
During her search for "what's up" in the academic literature on the topic as well as in the lives of couples around the country, she ran across a super creative DIY happy couple "status update" approach, featured last July as
video of the week
on the Brides Magazine (Brides.com) website. It is just too cute not to re-share here.
CLICK HERE TO VIEW
.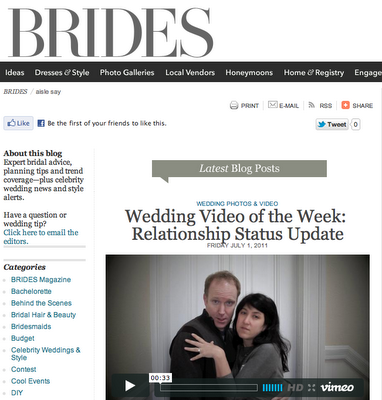 Maybe there's a new book idea in Joe and Emily's approach?
What Happy Digitally-Savvy, Facebook-Using Couples Do.
Okay, maybe not.
What is for sure: Joe and Emily, whoever you are, two thumbs up for your fresh start to your new life together. And as a thank you for making me giggle, here's an offer. Send me (
[email protected]
) a little e-mail, I'll send you a gratis and personally inscribed copy of little old
What Happy Couples Do
! Let's see how many degrees of separation this blog post is from Emily and Joe of the Brides.com video. Ready, set … let's find them (digitally, of course).