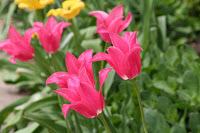 It's spring on campus! And in my yard.
Tulips explode. Rhodedendrums erupt. Lilacs emit the aromas of … well … lilacs, of course. Buds burst all around and make my eyes water with joy. And allergens.
It's also a delightful time of year because classes have ended. Next week we give final exams (insert big sigh of relief). Because although I (Carol) absolutely love what I do, I also love the seasons of academia:
Start afresh.
Learn.
Lecture.
Discuss.
Read a lot.
Learn more.
Discuss further.
Take a test or two.
Challenge yourself.
Persevere.
Finish.
Summer.
And then next year, do it all again.
As I wrap another year and head into summer, I've been thinking about the fall already (starting anew) while being unusually appreciative of the baby-tenderness and freshness of this spring.
One of those fresh moments came from a lesson poignantly learned by a couple (literally) of experts guest speaking in one of my courses. You can read all about it in a blog to which I contribute at the University of St. Thomas. The entry was inspired by spring in my (rock) garden. Take a peek:
http://blog.stthomas.edu/thescroll/archives/carol_bruess/