My (Anna's) dear friend, Jessica, works at Milkweed Press. They're having an event for their children's book, Floramel and Esteban.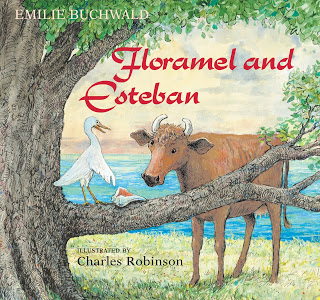 Come hear an enchanting tale of friendship and experience the happy sounds of a Caribbean steel band. Floramel and Esteban explores the rhythms of life on a Caribbean island and the friendship between Floramel and Esteban, a lonely cow and a lazy egret. This story is perfect for young readers (ages 7-11) and adults who are young at heart.
Author Emilie Buchwald will read and sign her book, Floramel and Esteban, and play a recording of Calypso music for all ages to enjoy. Please join us!
Saturday, September 12, 2:00 PM
Floramel and Esteban Reading & Signing
Refreshments to follow
Open Book, Target Performance Hall
1011 Washington Ave S
Minneapolis, MN 55415
"Long live the artists and their encouragers; long live Floramel and Esteban!" —Debra Frasier
"Written with grace and joyful precision, Floramel and Esteban presents an unlikely pair, an unlikely musician, and an unlikely career choice in a poignant tale that will replay in your mind like a beloved melody." —Juanita Havill, author of Grow
"Floramel and Esteban is the kind of book readers don't often see anymore—a generous and spirited story of animals, love, island culture, friendship, and pure joy."
—Susan Straight, author of A Million Nightingales