Today is my 22nd wedding anniversary. Yes, it's Friday the 13th, and we chose a Friday (the 13th) in December 1991 to make public and official our happy-couple-status. So many people say "but why?" Because we knew what was ahead wasn't anything about luck. It was going to be all about focus and hard work.
And I've never been more in love.
My beloved and life-long partner (who reports that he should indeed receive 1.5 years of credit for each year of our marriage because his "marriage is a petrie dish; I'm married to a marriage researcher!") is still today my best pal, my confidant, my hero and my
rock
. That was actually his nickname in high school some 30 years ago: "Rock." I thought I understood why over the past 27 years of knowing him. Yet each day since, as I witness him sore in his profession, impress as a fully-engaged parent, light up a room of strangers and friends alike with his effervescent ways, and (the most impressive part of him) embrace and adore my quirky, emotional, highly-charged, on-the-go, sensitive, empathic (to a fault), often cranky self, I know more fully the depth of the moniker donned on him long ago. He IS a rock, in the most glorious sense of the word. Solid. Steady. Always. Forever.
And he's all mine. Which makes me the luckiest gal alive.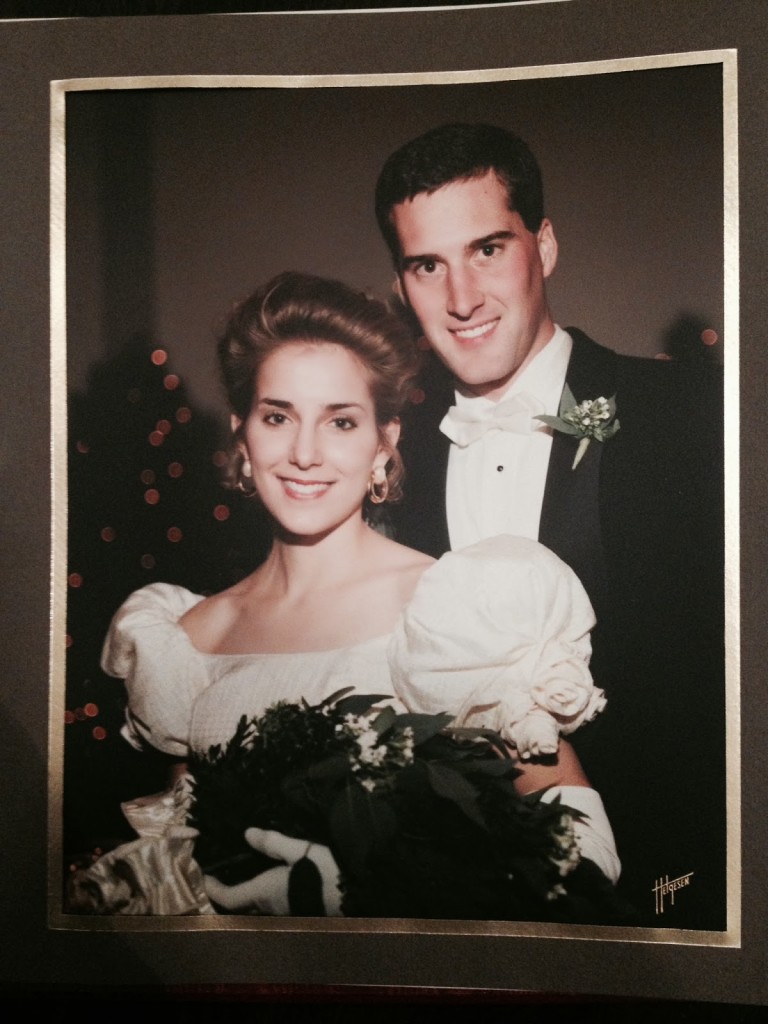 A page (literally) right out
of our wedding album,
the best Friday the 13th ever.
Nice puffy sleeves, I know.
May your Friday the 13th be as absolutely-mysteriously-perfect-and-lovely as mine and my honey's. XXOX to you all. We just returned from our ritual "anniversary day off" together (during which we made sure at least one of us was in seat 13, of course, at the theatre. We're now off to look for a bottle of wine to take to a holiday party, which has to cost exactly $13, and then to see if we can get from the store to the party in exactly 13 minutes. You get the silly picture …).
P.S. …
While I
have
and always will keep my promise to my dearest hubby to be true and faithful and forever quirky and emotional and cranky and stubborn in my love for him, I have NOT kept my promise to all of
you
to be a diligent, weekly blogger this fall during this absolutely lovely sabbatical! Oh my. Interesting how promises work: so easy to make, so hard to keep. If you enjoy this blog, I hope you'll forgive me. While I haven't been blogging much here, I have been studying, writing, researching and reading a TON and then some about couples and families in the digital age. Which means there is much to share in future blogs, and I pray you'll check back and see when I finally do so!