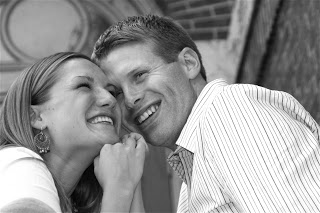 Meet "Jillybean" and Dustin. They're engaged. They're in love. You can just see it in their smiles. And in their engagement photo.
No matter your age or stage of couplehood, you can rekindle the sure and pure giddiness of your new love. Be fully engaged in what your partner is saying. Laugh hardily at his jokes. Smile for no reason in her direction. Hire a photographer (or ask your neighbor with the camera) to capture you looking longingly at each other. Seriously. When is the last time the two of you – without your children – have had your photo taken on purpose? Try it. Seriously. You'll be thrilled you did.
(Note to Jillybean and Dustin: Did I tell you that if I – Carol – take your photos, I get to blog about how adorable you two are? Oops. Maybe I forgot to mention that part).