The late Dr. Tom Faase taught us (my husband Brian and I) one of the profound lessons of a profoundly beautiful partnership: Amplify the other.
After a party we hosted this weekend, one for which we spent weeks happily preparing to honor my dear friend and colleague Professor Tom Connery, I was glowing in the knowledge that my pal Tom felt fully celebrated and honored. It was an evening soaked with great conversation, luscious cocktails, hearty laughter and much to exalt (Tom is our Professor of the Year at the University of St Thomas, an apt accomplishment for a guy with the hugest heart and the largest set of talents. Woo hoo!) (That's him in the middle)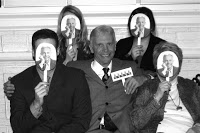 The next day it dawned on me: our pal Tom Faase would have been celebrating too. Yes, he would have enjoyed Tom C. as a friend and colleague, had they ever met. Fast friends, no question. On this occasion Tom Faase would have been praising (quietly noticing) the subtle yet profound way my happy husband worked joyfully and diligently – even during the hours of my anxiety-filled, irritation-full moments of "will we have enough wine?" and "what if everyone shows up at the same second; can the highly-trained-10-year-old-bow-tied coat checks handle it?" and "what if the outdoor candles blow out in the March winter wind … a travesty of décor disaster out of my view and control?" and "don't touch that!" and "stop making dust!"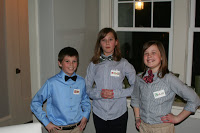 Although it wasn't his dear friends and colleagues attending the first capacious party in our home, you wouldn't have know it. My happy husband pal was, without a word, simply and fully on-board. With every moment of planning and execution. With every shortened-breath-moment before the honoree and his family (and 65 friends) arrived. He went full-tilt in the party-planning and hosting (and entertaining and cleaning up until 3 a.m.) because he was – Dr. Faase would no doubt have named it: amplifying. Doing what it took to make sure what I believe is part of what he believes (that cupcakes must be positioned exactly 1/8 inch apart, that the ice must be touching every bottle, and the lights are precisely this way, not that).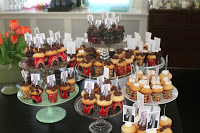 Amplifying is not easy. Right? It is sacrifice, practice, other-centeredness and patience. But it sure is magical. My lovely husband did whatever it took to – quietly (save the boisterous story-telling about how the hell the fridge I purchased wouldn't fit in the $%&$in' front or back door … to people he'd never met but was not too shy to share our deep, dark refrigerated secrets) — but yes, mostly quietly making sure my mission to celebrate my colleague was memorable and meaningful. The happy husband he is ensured that my mini-party-production was as perfect as I dreamed it should be. For Tom.
And that's exactly what Dr. Tom Faase would say happens behind the scenes – in the enormous and most mundane moments – of every happy couple. Most of the time, anyway.
Thanks, dear. You make me better, every day. (That's him, in pink. He's sweet AND cute). Lucky me.