Below I've cut and paste, word for word, an e-mail from a reader. His words and actions are both serious and inspiring. Read on.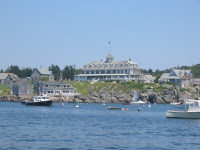 Monhegan Island, Maine
Carol-
I found your book, believe it or not, in a small store on Monhegan Island, a remote and beautiful island about 12 miles off the coast of Maine where my wife Nancy and I were celebrating our 20th anniversary. It was a trip I didnt think would actually happen. You see, back in May, Nancy told me that she wanted to end our marriage. It was a shock to me (although it shouldnt have been), and I felt that my life had come to an end. I have loved Nancy since the second I saw her in college about 25 yrs ago. But after 20 yrs of marriage, and three challenging children, including one with Autism and one with Depression, and me a recovering alcoholic with anger issues, Nancy had decided she had enough and gave up hope that I could change.
My life had never been shaken like that, and it caused me to re examine how I had treated Nancy. It became obvious to me that although I have always been a faithful and loyal husband, I had also failed on a daily basis to commnicate to her clearly by both words and actions, that I appreciated her for the amazing and loving wife and mother that she is. She came to feel unloved, unappreciated and her self esteem was severely damaged. Despite the love and admiration I have always had for her, I almost NEVER communicated it to her, and I missed so many chances to pitch in and help her out and be a true "life partner" to her, like she needed so badly.
As our 20th anniversary approached this year, and our future very much in doubt, while praying for guidance, I was given a wonderful inspiration to tell nancy just how much I appreciated her in so many ways. I came up with alist of 20 things I loved and appreciated about Nancy and that I was grateful for. Starting 20 days before our 20th aniversary date, at 4:00 a.m., after my morning prayers, I wrote a two page note detailing one thing that I appreciated about her,and left it for her in the bathroom along with a single red rose on top of the note. Some examples of the things on my list were serious things like: her care of our children when they were in the womb (we had several difficult pregrnancies and miscrriages) and her patience wth me as I quit drinking, and funny things such as my gratefulness that she is so sexy and that we have always been able to be goofy together. I did this each and every day for 20 days. It was such a wonderful thing or BOTH of us. She appreciated it so much and looked forward to what I would be writing each day, and I looked forward to my daily trip to he florist, my secret care and storage of the roses, and the early morning note-writing. It made me for the first time, really and truly appreciate her and to take a serious look at how I had neglected to care and appreciate her as she deserves to be. On the 20th day, I got each of 7 different kinds of roses, all of which mean differen things (yellow= joy; pink= gratefulness; white= heavenly; purple= desire, etc) and I wrote a short note on each of those topics to finish it off.
It was an amazing 20 days, and something that God willng, I will have the chance to repeat each and every year for the rest of my life. I do not know where things will end up with us, although I have many reasons for hope, and your wonderful book has given me many other great ideas and I thank you for that!! I just wanted to share my idea and tell other husbands- life is too short to think of the things hat annoy or bug you about your wife and it is too short not to live every day dedicated to her happiness. Celebrate the wonderful gift that she is and do it NOW and do it each and every day, without fail. Live one day at a time, and commit yourself to making your wife know every day by our words (say I love you) and actions (take out the trash, do the dishes, do the laundry), that she is # 1 in your heart
thanks for taking the time to read this
Warm regards,
Matt