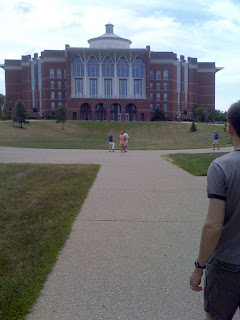 I really do. Can you blame me? Just look at that library. Libraries are my weakness. While Carol's favorite smell is cleaning solution, mine is the scent of old, musty books. UK's library, I learned during orientation, is the 2nd largest in the country. I'm dying to find my own little corner of this lovely space.
More perks? My professors are equally as brilliant as they are supportive and professional. My classmates are both fun and smart. It's truly all I could have hoped for. And, while it's tough saying goodnight to my sweetie over the telephone, I know it's only temporary. The timing couldn't have been more perfect, too. You see, Dr. Laura Stafford, one of the top five scholars in our area of communication, has recently been researching long-distance relationships. And, like me, this is her first year at the University of Kentucky (she was recruited away from Ohio State). It was meant to be, wasn't it? If you're ever doing the long distance thing (not that I'd wish it upon you), you should definitely check out her book, "Maintaining Long-Distance and Cross-Residential Relationships."
Whew. It was a long week for Carol and me. Soon the undergrads will be knocking at our doors (or flooding our inboxes, I should say). Summer was good, but so is university life. Let the classes begin!