I can't stop thinking about the woman named Kelly who was featured on our local NBC affiliate last night (it's Carol blogging-in today).
She's young. She's healthy. And she was about to celebrate her 7th wedding anniversary. But it didn't happen because her husband – the love of her life, talented painter, best friend – was killed in a car accident.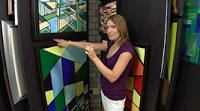 Very sad. Super sad. The whole story just made you (okay, me) want to bawl your eyes out.
Beyond the heart-wrenching details of his death and the aftermath, what touched me the most about their story was something this young widow said during the interview. The statement came as she described what their marriage was like; what she and her husband shared; why she missed him deeply every single second of the day and night. And what she said seems to me a succinct summary of the end-game/sum-total/tell-all (tell everyone!) secret to marital and individual happiness (and is similar – don't you think? – to the point we made in the "Happy Wife, Happy Life" blog post a few weeks ago):
"I just told him all the time how lucky we were. If your goal is to make someone else happy, and their goal is to make you happy, it probably doesn't get much better than that."
Profound!
What if all of us in relationships made a pact to make it our goal – every day – to make the other person happy knowing that they are doing the same for us?
So much happiness, we all might just bawl.
It's all about reciprocity, baby, without the expectation of such.
Why not give it a try? (And then, in the spirit of reciprocity, write in and tell us how it worked).