Happy couples co-create "place" in the world. Chapter 5 of Kate and Pete's story is about doing just that (plus a nod to a most beautiful thing couples can make: compromise).
Home Sweet Home Grown
by Kate Woodman Middlecamp
Three years ago, while searching for our first home, Peter and I quickly realized our joint vision of the future might require – as many things in a happy marriage do – a bit of loving compromise.
I wanted an old house: built-ins and hardwood floors, a lovely staircase and leaded piano windows.  I was less concerned about the yard, at least initially, and wanted to stay in St. Paul.  For me, it was really about the interior space and the light. I dreamed of art on the walls and tea in a sunny kitchen, of children running down the staircase on Christmas morning, and of a fireplace to cozy up to on chilly winter's nights.  I fell in love, hard and fast, with at least 4 of the houses we visited in the first few weeks.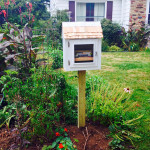 Peter wanted a yard, as big as we could afford, and had an open and flexible vision of what the house could/would/should be: made of shipping containers, a 100 sq foot tiny home, or even, an old converted school bus.  He searched for the biggest yards, with the most sun and space to grow and we visited vast properties that more often than not featured less-than-desirable houses.  While I struggled to look past the issues with the homes, Peter could fully envision the future yards, filled with love and grown goodness.  He fell every bit as hard for those open spaces as I fell for the old houses with piano windows.
The problem was, big yards and old houses with piano windows don't necessarily go together in St. Paul (at least not in our price range) and we found ourselves in the midst of a few intense marital discussions.  We realized that we had to put aside what felt important to us as individuals, and try to define what was truly important to us as a couple.  The yard, it turns out, was very important to us both – space to grow food and let children and puppies play.  But the house was equally important; one filled with beauty and light – or at the very least, the potential for both.
When we first visited the house that was eventually to become ours, I wasn't impressed.  It was certainly an old house, but not of the style I had dreamed, and was in need of some serious cosmetic upgrades. The bones were solid, however, and the yard simply amazing. Under the shadow of a 60 year old Black Walnut tree, planted the year the previous owners purchased the house, we observed a glorious and massive space, with an existing garden in full bloom, and Peter's vision of "our home" became real to me for the first time. I understood what he saw, and why he was so in love with it, and realized that deep down, I was in love with it too – I just needed to see it to know.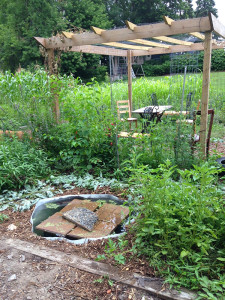 So piano windows took a back seat to vegetables and garden parties, and we haven't looked back.  Our little house has had the necessary cosmetic upgrades, complete with refinished original hardwood floors, and yes, a sunny kitchen to have tea in. There isn't a fireplace, nor is it made of shipping containers, but there is art on the walls and the rooms are indeed filled with beauty and light.
The garden, in turn, has become the true center of our life together. It is ever-increasing in size, close to 11,000 square feet this past season, and is now home to fish ponds and chicken coops as well as endless, delicious produce. We grow organically, and as sustainably as possible, and that mindful and purposeful attitude has spread into all areas of our life – including our relationship with each other. We are healthier, kinder, more patient and more generous partners as gardeners than we were before.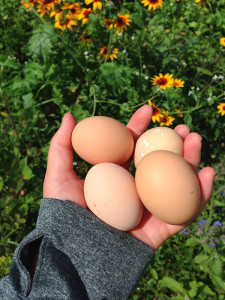 Our favorite part of our new life as gardeners, and that which has become our most beloved ritual, is simply sharing it with others: doorstep drops of vegetable goodness, dinner parties under the garden pergola with salad picked by guests and dessert wandering the raspberry patch, soups filled with goodness and love brought to those who need it most, neighbors who never leave empty-handed.  Even now, in the midst of this bitter winter, we still have squash and potatoes in cold storage to share, and mason jars filled with preserves sparkling in the pantry.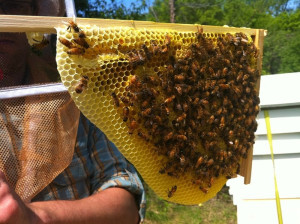 And as our garden sleeps under a blanket of snow, we snuggle under blankets of down in our adorable, slightly drafty half-story bedroom – dreaming of green leaves, and dinner parties, and tomatoes eaten from the vine, still warm from the sun.  Dreams of spring, and of garden goodness, and above all, of love.