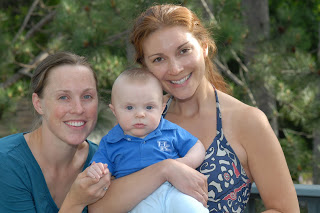 Well, as some of you know, I (Anna) am off to the University of Kentucky to finish up my Ph.D. It'll be a dream come true to be supported and nurtured by some of the best scholars in our discipline as I further develop my research line on marriage and family rituals. UK is home to some of the top "applied" researchers in the world and I can't wait to be surrounded and invigorated by them.
It'll be quite an abrupt change, though, being away from my loving hubby and all. But, thankfully, he is my number one fan and supports my pursuits and dreams. He loves my goals. And I love him for loving me and my goals equally, even when they take me half way across the country. We'll be crafting some "loving little rituals" as a long-distance couple for the next nine months, I'm sure.
Other big supporters? My best friend from grad school, Jen, and her four month old son, Hayden. I went to visit her in Duluth last month and Hayden was sporting a UK shirt. I'm so thankful for Jen's encouragement! And for Hayden's public display of support, too. I'll be sure to send the whole family some UK gear once I arrive next week. Jen, LL.