… to this podcast on mom
enough
.com (one of my favorite Minnesota-based resources with a national reach, developed by two really amazing women) featuring Dr. Bill Doherty (one of my favorite colleagues/researchers/therapists/all-around-awesome human beings, also here in Minnesota). You probably know Dr. Doherty's name if you read at all about healthy marriage and family; he's the author of many books which tell us exactly what to do if we want to keep things working well in our most important relationships. In fact, Doherty's research has inspired much of my own. Infinite thanks as always, Bill.
On this podcast, he tells us about what to do if your marriage is in trouble. Fascinating stuff here (e.g., he shares his research on the "divorce super highway" and "couples on the brink!"). No matter your status, you'll be glad you listened in:
http://momenough.com/2012/12/are-you-struggling-in-your-marriage-or-do-you-know-someone-who-is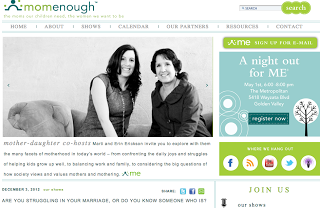 As always, great job Bill and co-host/mother-daughter team Erin and Marti! Minnesota HEARTs your efforts and, as always, your approach.