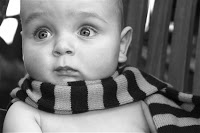 While Anna's husband is a lover of technology, I (Carol) am a lover of my Canon Digital Rebel XT 10 megapixel digital camera with the combo 28-300 zoom. My favorite subject? Not lice or casts or dog barf. Just kids. I know, not very original. But kids are kind of like lice; they capture your attention and are oh so fleeting. And although I adore my own children, I love capturing the moments of others' kids (with permission, of course).
Here's Max who I've been documenting since age 3 months. His 9 month birthday is today! Can you even stand those cheeks?
Happy 270 days old today, Max.