…didn't include bribing children or fights at the ice-rink like Carol's. But it did indeed provide a much needed break from school. It started out with:
1. Our annual trip to Grand Marais, MN, with some great friends. We cross-country skied in sub-zero temperatures and warmed up in the hot-tub overlooking Lake Superior. We drank Manhattans and put together puzzles. We ate well and slept well.
2. Then we traveled to St. Cloud, MN to spend time with both of our families.
3. We went to my aunt and uncle's home to enjoy an Asian themed Christmas day celebration. Picture the whole family making sushi for the first time. One roll was even heart-shaped. It was most delicious, too. Our annual gift-exchange game included some very interesting items this year, as you might imagine. My brother, for instance, brought a year-long supply of fortune cookies. After all the dice were rolled, however, he ended up with an Asian makeup case. Guess who stuck it to him in the last 10 seconds? No, not me. The culprit was none other than my 80 year old grandmother! Hilarious.
4. Then we were able to make it back to Minneapolis just in time for our anniversary on the 30th. We spent our evening dining out at one of our favorite restaurants, 128 Cafe, and reminiscing about our special day and an eventful 3 years as a married couple.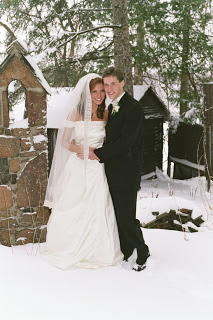 5. Then I headed to Coldspring for our annual Mother-Daughter tea at the Pillar Inn. Followed by a fun night with my best friends from high school. Our next event? The Pillar Inn's summer Champagne tea in the garden. Sounds splendid to me. Crumpets anyone?
5. Between yoga, lunch dates, "adult malts," and dog-sitting, I'm finally refreshed and ready for spring semester. Or as ready as I'll ever be. Cheers to 2009.