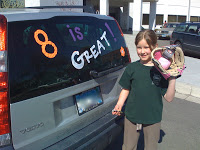 Well, I (Carol) love celebrating others' birthdays. Especially my kids. And although I've implemented a rather-new "no-birthday-party" rule at our house (no "over the top" birthday parties for us anymore), we have been sustaining (with great effort, you're about to learn) the "birthday week" ritual at our house.
Birthday week consists of the birthday girl/boy/man/woman receiving a solid 7 days of adoring treatment. Surprises. Dinners. Treats. Compliments. Bed making. Friends over. Notes. Signs. Singing telegrams. Funny voice mails. Pet-visits to school. All that and more. Problem is, each year I try to out-do myself, coming up with the most creative, cost-effective, and environmentally-friendly, yet still inspiring and delightful surprise(s) for the birthday-week receiver.
Window paint! I thought I had stumbled upon this year's simple-little surprise. But not on the windows at home; we already had constructed and hung the yearly hand-made sign facing streetward for all our loving neighbors to see. I planned on painting the windows of the car. Even better! A sign on wheels.
All it took was a quick stop at Hobby Lobby, $6.78, and I was on my way. I felt giddy applying the quippy sayings to the front and sides of our station wagon, driving in the much-welcome sunshine of our first spring-like day in Minnesota to my daughter's school. I then sat eagerly as my birthday girl came skipping down the sidewalk with her best friend Celie.
They both stared at the car. Celie smiled wide and giggled. Gracie, however, walked around the car slowly. Glancing without expression at my handwritten flowers, puffy number 8's, and exclamations of how great it is to be 8! I was announcing to the entire city that Gracie is having a birthday. That 8 is SO GREAT! Isn't it?
But she didn't appear to think my surprise (something I had thought for sure would become a new ritual in our family) was all that great. Hmmmm. I was not phased. She was so delighted, I assured myself, that she wasn't sure how to express herself. That must be it.
Fast forward to our bedtime snuggle; mom and birthday girl cozied up for our nighttime chat: "Did you like the car-painting today? Were you surprised?!" "I did," my little Gracie responded with the similar veiled enthusiasm I sensed earlier. "Except it was kind of embarrassing."
Yikes! My 8 year old – literally over night – transformed from "EVERYONE – LOOK AT ME!" to "DON'T LOOK NOW – MY MOM IS EMBARRASSING ME!" She finally uttered those famous words. Ones that I expected to hear some day, but not for about 4 more years. Embarrassed! I've succeed at embarrassing my little darling.
Darn it. And I hadn't even tried.
Oh well. At least I still have some leftover window paints, so when my soon-to-be-12-year-old (boy!) has birthday week, I can "try" not to "embarrass" him too painfully (by sprawling some of the other quippy birthday sayings that wouldn't fit onto my car's windows this week). Stay tuned; his big week is at the end of May.