If you add these photos together, what do you get?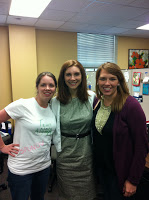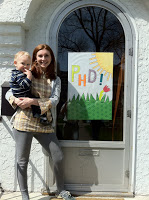 It's Anna D. H. Kudak … but now with a few very cool new letters behind her name!
Yes, it's true! Dr. Kudak smoothly and successfully defended her dissertation last week at the University of Kentucky and now joins the not-so-glamorous but oh-so-fun community of us crazy academics. Anna, on behalf of the Happy Couple team and your friends and family … HUGE congratulations on a HUGE accomplishment. Yay! YAY! Wooo hooo!!!
In celebration, the neighborhood first crafted a sign for her front door. Next? We're planning a party, of course. And what do you bring to a PhD party? Something that begins with a "P" and "H" or a "D" – of course. (Pinot Noir … Hot dogs in a blanket … A Display of Delightful Desserts …?) The possibilities are endless. Yaywhoohooyippeee for Dr. Kudak!