A series of fortunate events led me to Cristo Rey Jesuit High School Twin Cities' 2011 first-ever graduation ceremonies yesterday. If you don't know about Cristo Rey, look 'em up. You'll be inspired and awed, just as am I (Carol) each time I walk through their doors and work side-by-side with the uber-talented and always-hope-filled students. As one of the inspiring teachers at CR once said: Cristo Rey is one of those places that seems to "find you" … you don't necessarily find them. So true.

For the first graduating class at CRJHSTC, Immaculee Ilibagiza was invited to speak. She gets an A+ from this usually-critical public speaking instructor. Immaculee has a story, and she knows how to tell it. She left me wondering … with those silly little bumps all over my skin as her words filled me with emotion: "How can I be a better ______ (human, wife, friend, neighbor, community member, employee, stranger …?)"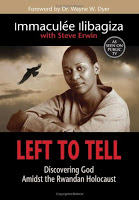 The author of "Left to Tell," Immaculee has written about, and enraptured us yesterday with the story of, how she and 7 other women hid in a 3×4′ bathroom for 91 days, surviving in utter silence the genocide in Rawanda. She emerged after those dark, hungry, frightening months to discover the unthinkable. Each member of her family had been killed. Most of her friends were dead too.
She had only profound things to say (yes, I'll be buying her book and sharing her story with everyone who will listen). She speaks about forgiveness and hope and generosity and faith. About otherness, kindness and presence.
In her address yesterday, she also said something absolutely and perfectly pointed to us happy couple readers/inspire-ees .. those of us mindfully and urgently striving to be hopeful and faithful and kind in our ever-challenging personal relationships: marriage, long-term love, profound friendship, functional families, neighbor/community/global goodness (etc etc etc etc etc).
Her simple lesson and words: "Learn to fight, but without the intention to wound."
Ah, the ultimate challenge. Fight for what is right and just and believed. Leave no one harmed in the wake of your passions, words and motivations.
Thank you, Cristo Rey Jesuit High School Twin Cities for teaching ME .. for teaching the world .. how to be better.