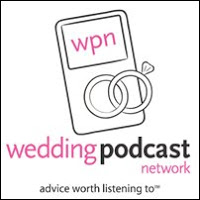 Yes, it's true: Another milestone. Another first. Another great resource for us and (hopefully) millions of others! (NOTE: A quick link to the Wedding Podcast Network can be found in the "our favorite sites" list at the right/top of this blog page).
Check out Wedding Podcast Network, the #1 wedding talk show on the Internet. Their latest lovecast features us (yes, Carol and Anna) talking about what we all can learn by practicing loving little rituals, learning positive communication patterns, and taking cues from "what happy couples do" to keep their love alive and energized.
To listen,
click here
.
After listening, tune into the Wedding Podcast Network's hundreds of other podcasts about love, marriage, relationships, and weddings. As we revealed in an earlier blog, Holli and Robert, the founders/creators of Wedding Podcast Network are so incredibly cool. And incredibly amazing at what they do. Share their priceless resource with all of your friends! Once you start listening you no doubt — like us — will find it hard to stop. And you'll be so much smarter and inspired for it.