Precisely!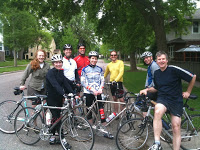 Quotable words (a book title?) from one member of today's early-sunday-morning-neighbor-crew, a collection of cool folks who embrace and sustain the neighborhood biking/coffee ritual (12.5 miles there … sip, chat, laugh, take-on-the-voice-of-a-male role play, sip some more … then 12.5 miles home … then gather on the patio of Bruess' backyard for more sips, chats, laughs). It's exactly what happy neighbors do: enjoy each others' company and good spirit. Regularly.
Amen! Exactly. No doubt. Yay!
In the infancy of the ritual, it was the neighbor guys who defined it and rode. Today and from here forward, us biker-gals have joined the ranks of the Portland Avenue early morning bike brigade. What have we been waiting for, gal pals?
It's what happy neighbors do! Ritual filled with goodness. And if you haven't already figure it out, it's really just what happy people do.
Period.
Joyful conversation. Good times. Super memories. Again and again.
See you next week, Portland people. I'm feelin' super lucky to know you.
– Carol